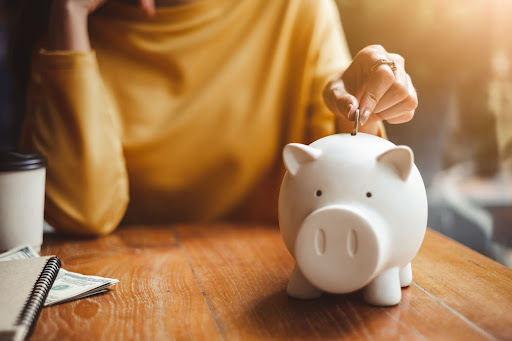 How to save money: 5 cash saving tips
If you're feeling the financial pinch, rest assured you're not alone. Thanks to recent energy price hikes, increasing interest rates, rising food prices and more, many consumers are under strain. And with consumer price inflation unexpectedly holding firm at 6.7% in September, there's no immediate sign of these pressures easing. This can make saving money difficult. However, with a little know-how, there are steps you can take to help you put money aside on a regular basis.
In this article, we take a look at how you can save money without it feeling like a chore.
5 tips for saving money
For some of us, the most difficult thing about saving money is getting started. The good news is, we've put together five top tips to help get you on the right track for cutting back on your spending so that you're able to reach your saving goals.
So, for a simple, realistic approach to saving money, keep reading.
1. Track expenses
Firstly, it can be helpful to have a clear idea of how much you're spending. This means tracking every expense, including your mortgage or rent, household bills like gas and electricity, food shopping and even extras like your morning takeaway coffee on the way to work. In order to get a true understanding of just how much you're spending, it's important to account for every outgoing, no matter how small. Don't forget to refer to your bank statements to make sure you don't miss anything!

Once you've sussed out your figures, write them down. Whether you choose to create a simple spreadsheet, download a spending tracker app on your phone or use pen and paper, having the numbers in front of you should help you see where you could potentially save money.
2. Reduce non-essential spending
Reducing how much you spend on non-essential activities is a relatively easy way to save money. For example, you could cut back on how often you dine out and make an effort to cook more at home, or avoid paying full price at the cinema by keeping an eye out for vouchers offering two-for-one deals on tickets. Better yet, you could find activities in your local area that are completely free, such as community-led events.
It's also a good idea to review your recurring charges. For instance, if you're signed up to a variety of TV and film streaming sites, you may want to consider cancelling the subscriptions you're not using on a regular basis. Similarly, if you're not getting the most out of your monthly gym membership, find out if you can swap to a cheaper option, like an off-peak membership, or ask if you're entitled to any discounts.
You might also be able to find simple ways to lower your energy bills and save money on your weekly shop.
3. Set saving goals and milestones
Saving money can seem much more achievable if you set yourself goals. You might find it useful to think of something specific you'd like to save towards, whether that's something you see happening in the near future, such as a holiday, or even a more substantial, long-term goal, like saving for a house deposit.
Having a milestone in sight can help give you the motivation to keep saving, especially if you start small. The truth is, you're more likely to succeed if your initial goal is on the smaller side. You'll be able to see the results sooner, which in turn should reinforce the habit and give you the boost you need to keep going.
4. Review your debts
If you have existing debt, whether it's a result of an overused credit card, due to gambling or something else, you may feel less inclined to even think about saving money – especially if you struggle to pay off what you owe. However, owing money doesn't mean you can't save.

To ease the pressure on your finances, you can start by reviewing your debts. This will give you a clear understanding of exactly how much you owe. You could even see if you're able to bring down any of your interest rates. For example, you may be able to set up a balance transfer. This allows you to move an outstanding balance from one credit card to another that offers a lower interest rate. In some cases, you may be able to secure a 0% balance transfer that's interest free, meaning you'll only be paying off the amount you owe, rather than the interest on top too.
Should you pay off debt before saving?
As we outlined above, being in debt doesn't necessarily mean you should avoid saving. That said, in some cases it may make sense to pay off certain debts before you start stashing away your pennies.
While the decision is up to you, it could be argued that it makes more sense to prioritise your most expensive debts, using any money you can set aside to chip away at this amount. This is because some debts cost more than savings earn. So while it may not be as satisfying as seeing your savings go up and up, there's no doubt you'll feel a sense of relief when you start to see your debts come down.
Managing your debt can be difficult at times, but there are ways to make it easier. For example, using a debt management plan (DMP) can help you get a better handle on your finances. These are voluntary agreements with creditors that mean you repay the money you owe in one reduced, affordable monthly sum. A DMP might be suitable for you if you have non-priority debts, such as overdrafts, credit cards, store cards, bank loans and payday loans.
5. Budget for saving
Once you've got a clearer idea of what you spend on a monthly basis, you've found areas where you could potentially cut back, and you've reviewed your debts, you can try to budget for saving. The budget you set should take your income and expenses into account so that you can manage your money without overspending.
The trick to budgeting for saving is keeping back an amount that feels comfortable and realistic to you. Over time, you could aim to increase your savings amount in small increments as you get a clearer idea of what works for you.
Are you struggling with debt?
There are always solutions, no matter what your situation.