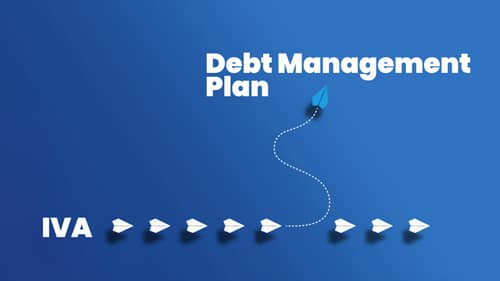 Individual Voluntary Arrangements (IVAs) and Debt Management Plans (DMPs) are two common debt solutions. But how similar are they, and if you're already in an IVA, can you make the switch to a DMP? Keep reading to find out the answers to these questions and more.
Is a debt management plan the same as an IVA?
IVAs and DMPs do have a number of similarities, though it's important to understand some basics about both of these debt solutions first.
An IVA is an agreement made between you and your creditors to make affordable monthly payments if you've reached a point where you can no longer afford the repayments to your debts. IVAs are formal and legally binding, and they last for a set period of time – usually five or six years. At the end of the IVA term, any remaining debt is written off.
Like an IVA, a DMP allows you to renegotiate your debt with your creditors and agree to a more manageable repayment plan. However, DMPs aren't legally binding. Instead, they're informal agreements between you and your creditors; this means they can still take legal action against you if you don't keep up with the agreed upon repayment terms.
Both IVAs and DMPs are designed for people who are finding it difficult to keep on top of their debt repayments. They both involved coming to an agreement with creditors to make lower, more affordable monthly payments. You might use these solutions to cover similar types of non-priority, unsecured debts too. This can range from overdrafts and credit cards, to payday loans and 'buy now, pay later' credit agreements.
While there are some crossovers between IVAs and DMPs, there are also lots of important differences that you should keep in mind when deciding which solution works for you.
What's the difference between an IVA and a Debt Management Plan?
One of the main differences between an IVA and a DMP is the fact that an IVA is legally binding, whereas a DMP isn't. Once you've entered into an IVA, your creditors can't take legal action against you or contact you directly. All contact must be made through an Insolvency Practitioner or a debt management company.
In contrast, if you enter a DMP, your creditors can still take legal action against you if you don't keep up with your agreed repayment terms. They can also still contact you. That said, the fact that you've set up a DMP indicates to creditors that you plan to repay the money you owe, therefore it can reduce the risk of them using legal force.
Another difference you should know about is that when you agree to a DMP, you're still liable for your full debt. In other words, you can't use a DMP to write off part of the money you owe – unlike with an IVA (though there are instances where you can repay your debt and costs of the IVA in full, if your circumstances change). This relates to another distinction between these debt solutions: whereas IVAs last for a set period of time, DMPs last for as long as it takes you to repay your debts.
There are differences between IVAs and DMPs when it comes to eligibility too. For example, DMPs are available to eligible people across the UK, whereas IVAs are only available to people living in England, Wales, or Northern Ireland. If you live in Scotland, the equivalent to an IVA is a Protected Trust Deed, which functions similarly but does have a couple of differences.
DMPs can be used to help you pay off smaller debts than IVAs. Whereas people who enter into IVAs usually have a minimum debt of £6,000, people can take out DMPs if they have £2,000 or more in unsecured debts. However, it's important to note that there's no minimum amount of debt required for an IVA, and it will be based on your circumstances as to whether this debt solution is right for you.
Can I change from an IVA to a DMP?
If you're already in an IVA but you no longer think this solution is right for you, you might be wondering if you can switch to a DMP. Maybe you feel like you made the wrong decision to begin with, or perhaps your financial situation has changed.
In theory at least, you're within your rights to end an IVA at any point during its term. That said, this isn't a decision you should take lightly. Make sure you have an in-depth discussion with your Insolvency Practitioner before you act.
It's essential that you understand all the consequences that will follow from cancelling your IVA. It's also worth noting that switching from an IVA to a DMP is rare, and it's far more common for people to go from a DMP to an IVA.
So, whilst it's possible, it's important to understand the potential consequences. Therefore, if you decide to go ahead with ending your IVA, you'll need to instruct your Insolvency Practitioner to do this. They'll send you a failure report confirming the termination. If you want to stop payments into your IVA immediately, make sure you instruct your bank to cancel any direct debit, standing order, or recurring card payment you have in place.
You should also get in touch with your lenders straight away to let them know you intend to find another solution to repaying your debt. If you don't do this, it's likely that they'll pursue you.
Is switching from an IVA to a Debt Management Plan a good idea?
So, we've established that it's possible to switch from an IVA to a DMP, but is this a good idea?
One of the main reasons for wanting to switch from an IVA to a DMP is an increase in income. If your income rises, it's likely that your IVA payments will go up too, and you might end up paying more money back to your creditors than you originally planned for. Another possible motivation for wanting to swap is that a DMP can give you greater control over your repayments.
Before taking any action though, you should make sure you clearly understand the differences between these two debt solutions so that you can make an informed decision about which is best for you. There are advantages and disadvantages to both IVAs and DMPs.
Be aware that if you do swap from an IVA to a DMP, your creditors will be notified and they'll be able to start chasing you for the money you owe. They can also start to add charges and interest to your debt again.